Having a fall cannot only cause injury, but also a loss of confidence and ability.
What is the role of an occupational therapist in reducing the risk of falls?
The occupational therapists at Manchester OT can assess both the person and the environment to reduce the risk of falls. Manchester OT provide a falls prevention programme to reduce the changes of a client falling.
Assessment of the person
The occupational therapist will initially consider the person's history of falls, any muscle weakness, any impairment with balance, limitations in everyday activity, any visual impairment, the psychological impact of falling with regards to the person's fear of falling and any loss of confidence, any cognitive impairment or musculoskeletal problems.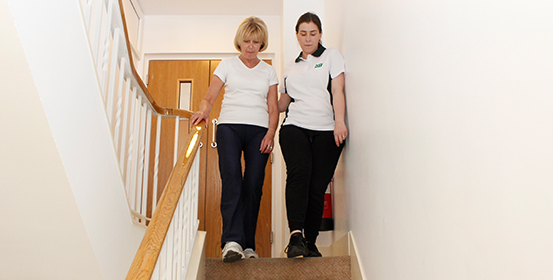 Assessment of the environment
The occupational therapist will then consider environmental hazards. The layout of the accommodation, furniture, equipment storage and use, transfers, walking aids, the person's clothing and footwear are all included in the assessment.
To complete these assessments, our occupational therapists use evidence based assessment tools and outcome measures.
Following the assessment, advice, education, support and rehabilitation will be given as appropriate.
Aids and adaptation
Following the assessment, the occupational therapist will arrange for any aids or adaptations they feel that will reduce your risk of falling.
Please contact us or call 0161 883 0088 to see how we can help.
Next Steps
Back to Top